Hi everyone, and thanks Brenda for having me as a guest today.
I love to grow things, but not everything likes to grow for me. This year I planted a number of plants that just died.

A blueberry plant, I set out in early spring. Looked good great at the beginning and even had a few blueberries on it. Then wanting to help it, I put some fertilizer on it. The thing almost died in a week, only had two little leaves on it (as shown above).
Hoping to save it, I relocated it to a new spot and it is still green, but no new growth. So what have I learned? That with my black thumb, I have to keep trying new plants and don't give them too much care.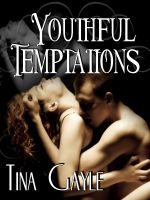 Blurb
A widow with two grown children, Linda Clayton is ready to let loose and have some fun. Jilted at a party, she met a younger man, Vaughn Reagan. He has an active imagination and allures her into his life by tempting her with seductive games.
Vaughn is thrilled to find a woman who doesn't want children. He offers Linda a job so he can spend his days with her. Now, if he could only convince her to forget their age difference and enjoy the nights in his arms.
Find out more about Tina Gayle on her website and blog.
http://www.tinagayle.net/
http://www.tinagayle.blogspot.com/